Togetherall – a new, free, safe, and anonymous mental health service
A new online mental health service has launched for people aged 16 and above who live in Newcastle.
Togetherall is free, safe and 100% anonymous. The site is available 24/7, with trained practitioners moderating content and supporting the growing online community.
How Togetherall Works
At its heart, Togetherall is a peer-to-peer network with everyone able to post their thoughts, feelings or questions. Other users respond in support, sharing their experience, perspective, or advice.
All accounts are anonymous. When registering, the site prompts you to pick a username that people can't identify. The aim is for everyone to feel comfortable expressing themselves and being as open and honest as they want.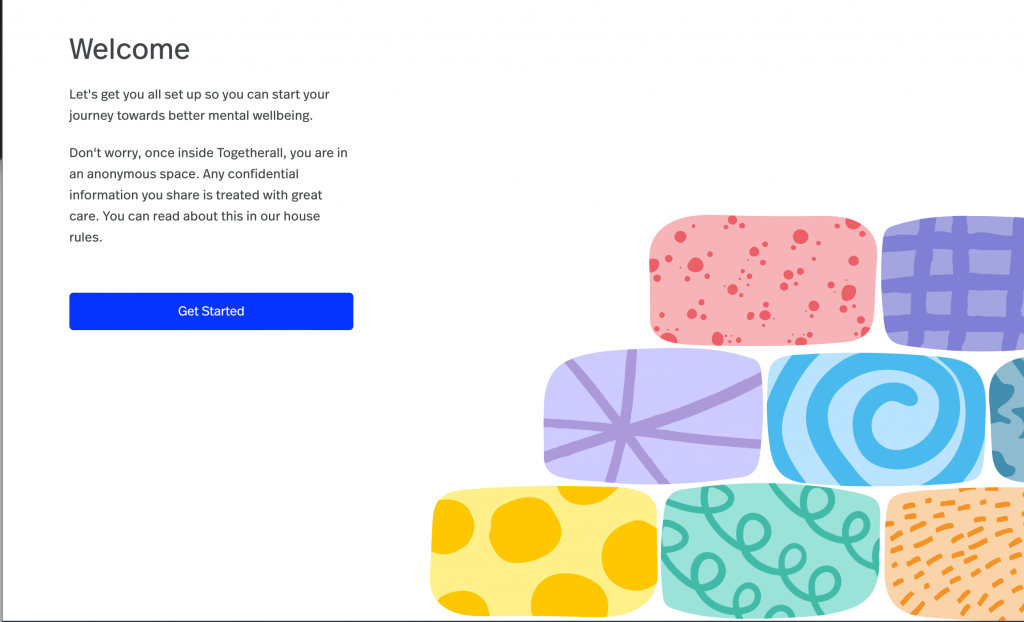 The Community
The community section is where you will find the most recent conversations.
You can scroll through them chronologically or filter by one of the numerous categories. These include mental health conditions, addiction, identity and relationship issues and many more.
Within the community, there are two ways people can begin conversations.
One is called 'Talkabouts', where users can write about what is on their mind – it's the same format you might be used to on social media networks or online forums.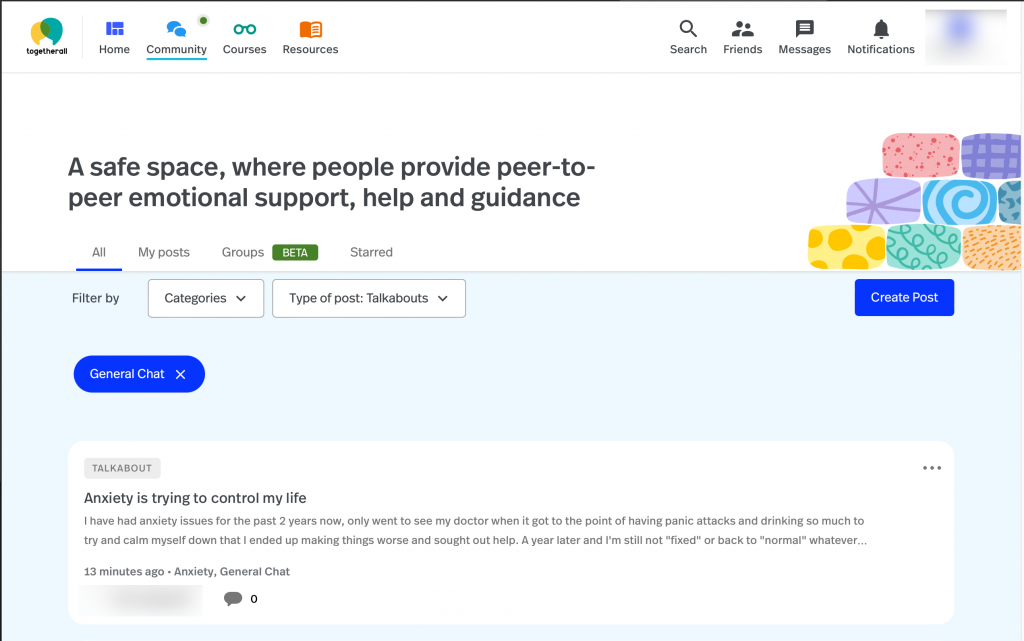 The second option, where you can post a photo, drawing or any other image, is called a 'Brick'.
Sometimes these illustrate how someone is feeling, the thoughts they are having or just bring some light relief and positivity.
You can personalise your home page by including or excluding specific topics and subject areas.
Courses and Resources
Beyond the community, there are other ways to improve your mental wellbeing.
You can explore structured self-help courses on various topics at your own pace.
Subjects include how to cut down your drinking, improve your sleep, build your assertiveness, or manage stress and worry are available.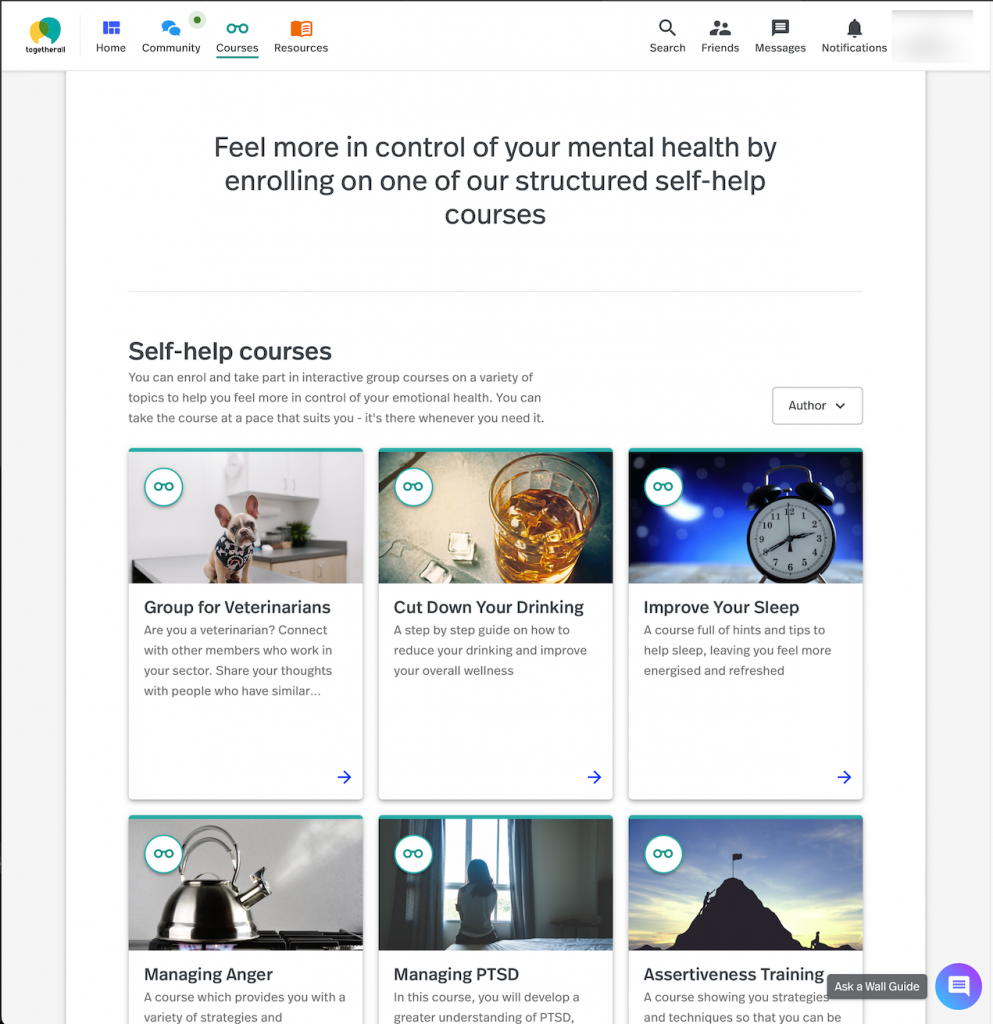 Each course brings a deeper understanding of a feeling, situation, or issue. Some courses will bust myths; others will normalise or destigmatise situations that any of us could find ourselves in.
All of them will aim to give you strategies to address your issue, cope better and be able to move forward.
There are also valuable tools in the resources section, such as private journals and goal setters.
Informative articles sit alongside self-assessment tools, helping you increase your knowledge, gauge your feeling and track changes over time.
Other Local Mental Health Services
How we experience mental health issues and respond to help is down to the individual. Different stations will affect us differently, and one form of support may work better for one person than another.
That's why it's helpful to know that a range of services is available depending on your preferences and needs.
Here are some of the other options available to people in Newcastle.
Free online support and counselling is available at www.Kooth.com (now 18 and under – but existing users can choose to stay until 25).
Tyneside and Northumberland Mind's support line – every day 8 am to 10 pm (age 16+) on 0330 174 3174 (charged at local rate).
Togetherall – a free, anonymous online mental health community where you can safely voice your feelings and connect with others. Moderated by professionals for your safety – visit www.togetherall.com.
If you're feeling low, anxious, or stressed, you can contact Talking Helps Newcastle on 0191 282 6600.
Visit 111.NHS.uk or call NHS 111 – open 24 hours a day, 365 days a year for non-emergency medical problems.
If you are feeling suicidal, phone the Samaritans on 116 123.
And of course, you can contact your GP if these options are not suitable.